Single-handedly install windshields that would normally require two technicians!
Wood's Powr-Grip® introduces a NEW suction cup specially designed for windshield handling! Features 2 handles: a comfortable angled grip and the classic vertical grip.
AEGIS offers a variety of kits for repairing rock chips and small cracks in windshields, with options for the prudent and aspiring business owner, to old pros tackling the toughest and most unusual repairs.
Questions? Call Us:  (406) 628-8231
Windshield Repair Kits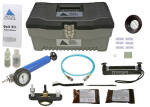 Browse our windshield repair kits for quick and professional solutions to fix small chips and cracks in auto glass. Kits include repair resin, an applicator for precise injection, UV lights and curing film/strips for resin hardening. Restore windshields professionally and hassle-free.
Glass Handling Tools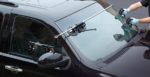 Equip yourself with high-quality glass handling tools for seamless vehicle windshield replacements. These advanced tools, including the Solo Neo, provide efficiency and precision during installations. Streamline your automotive repair process with user-friendly designs and innovative features.
Glass Removal Tools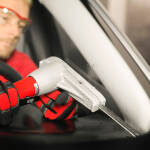 AEGIS carries an extensive collection of top-tier brands such as Equalizer, Extractor, PipeKnife, and UltraWiz, renowned for their exceptional tools used in vehicle windshield removal. With precision knives, replacement blades, and powered cutters at your disposal, you can effortlessly and safely remove windshields.
AEGIS® – Glass Repair Specialists Since 1982…
AEGIS Tools International, Inc. is a leading designer, manufacturer, and seller of top-quality auto glass repair and installation equipment. Since 1982, we have been revolutionizing the industry with our innovative AEGIS Windshield Repair System, which was first developed by our founder, Robert Birkhauser, for his family's windshield replacement business.
Today, our AEGIS line of products is globally recognized as the go-to choice for glass and auto body shops. Our state-of-the-art windshield repair equipment and glass installation tools, such as the Solo Neo 1-person windshield installer, have been refined over the years to deliver exceptional results, making any job a success.
Trust AEGIS for all your auto glass repair and replacement needs. We are committed to providing you with the highest quality tools and equipment to get the job done right.